Farm holidays in Brixen
Products from the Sigmundhof farm
As a farm in the Brixen region, we feel particularly committed to the careful use of natural resources. We stand by our responsibility as producers of natural food that not only tastes good, but also brings a piece of South Tyrol to your plate. Our farm is part of an intact nature.
Preserving this and passing it on to future generations is an important concern for us – since our ancestors cultivated the same holistic attitude towards the land they farmed.

Taste fresh cow's milk, healthy eggs from happy chickens, homemade juices and fruit spreads from our own fruit, honey from our own apiary as well as fruit, vegetables and fresh herbs from the farm garden or a good glass of wine from our own vines.
Our natural products are "farm-fresh", which means they are grown directly on the farm and processed with loving care.
In our product corner in the entrance area, you will find all our farm products, which you are welcome to buy. The selection of delicacies was produced and processed on our farm.
Our offer is based on the natural cycle; therefore products are seasonal and not available all year round.
Our numerous fresh herbs from our garden give your recipes that alpine Mediterranean touch….
You are welcome to collect herbs from our herb garden for your recipes. 
Would you like to be woken up in the morning by the smell of fresh bread? You can order fresh bread on request and receive it every morning (on Sundays and public holidays by arrangement). Choose the bread from our bread list and give us your order the day before.
For your breakfast on your first day of holiday, you can order your bread before your arrival. Just e-mail your choice to us!
Our breakfast basket
The perfect start to your holiday…
Come and taste our daily breakfast basket and start the day with your favourite products! Breakfast is usually neglected in the hustle and bustle of everyday life, even though it is known to be the most important meal of the day. Here at the farm, enjoy our fresh breakfast basket on the balcony, in your holiday flat or under our gazebo. Get your energy before an eventful holiday day in the South Tyrolean mountains. We will gladly prepare a breakfast basket filled with farm products such as fresh milk and eggs, fruit spreads, honey, fruit juice and homemade desserts. The basket can be completed with typical South Tyrolean and farm products such as coffee, tea, butter, yoghurt, muesli, cheese, cold cuts, and bread.
We will of course inform you about possible allergens. If you have any intolerances, please let us know so that we can satisfy your individual needs. Sweet or savoury, our breakfast is healthy and offers delicious ingredients for everyone in the family.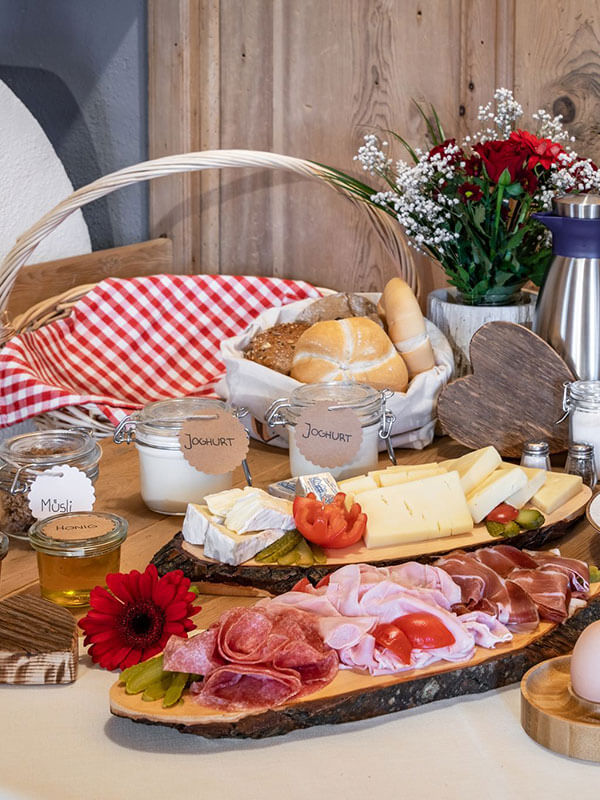 milk*
coffee or herbal fruit tea
2 breads*
homemade fruit spread
honey from our own apiary
butter
yoghurt
muesli
cheese and cold cuts
egg from the farm*
homemade dessert
18 € per person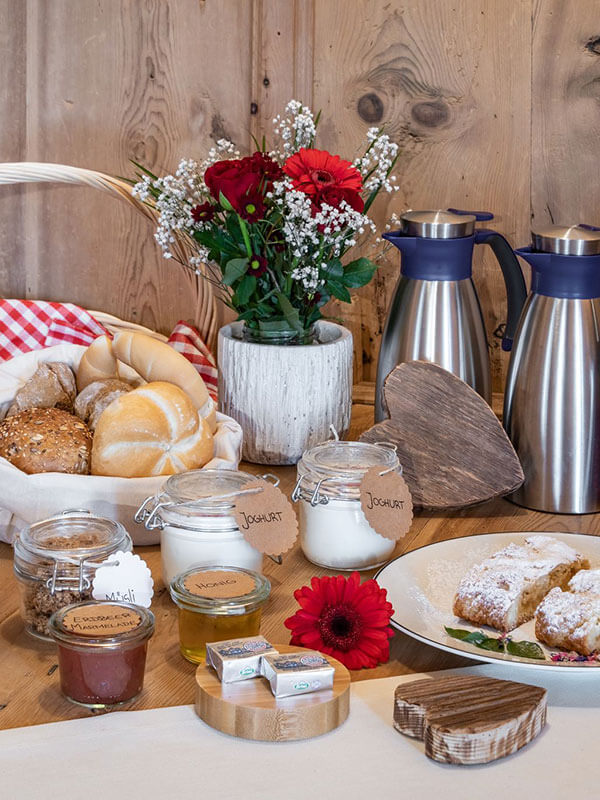 milk*
coffee or herbal fruit tea
2 breads*
homemade fruit spread
honey from our own apiary
butter
yoghurt
muesli
homemade dessert*
12 € per person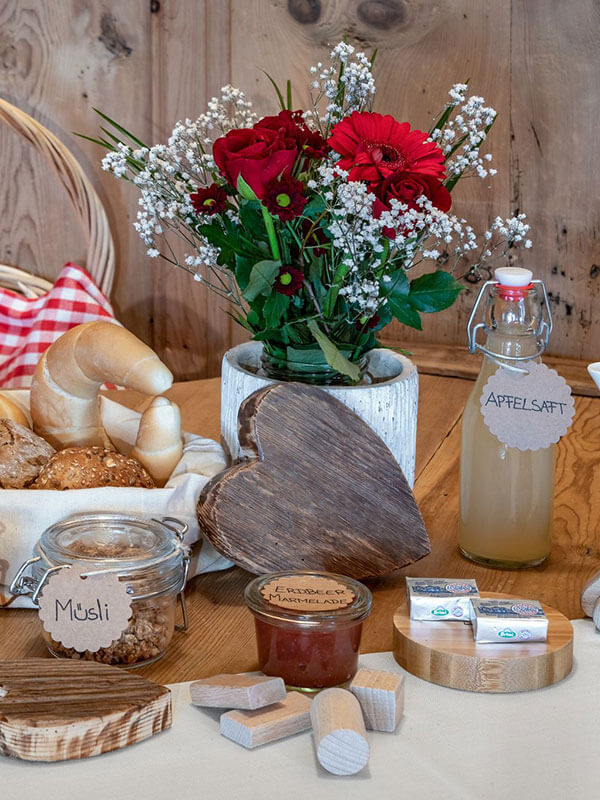 cocoa
milk*
or homemade fruit juice
1 bread*
homemade fruit spread
or honey
butter
yoghurt
muesli
6 € per child
The breakfast basket is prepared for at least 2 people.
Just let us know the day before and, in the morning, you will find the breakfast basket in front of your flat.
If you would like to prepare your own breakfast, our baker will bring you fresh bread every morning (on Sundays and on public holidays by arrangement). At breakfast you can of course also enjoy fresh products from our farm.
Tip: Order your breakfast basket directly when booking!